A unique contemporary music project designed around what it's considered one of the most fascinating Baroque instruments: the viola d'amore. It is the notes by composer Elvira Muratore, conveyed to the hands of Valerio Losito, tailored to suit the warm sound of the 1775 Ferdinando Gagliano's viola d'amore, property of the Elsa Peretti Foundation.
Alias is what we choose to keep untold to protect it from misunderstanding and strumentalization, even when it's presence is obvious and irrefutable. Alias is exploration and versatility; a collaboration in pursuit of the ultimate beauty; it is a recital, a theatrical piece, a series of concerts for solo viola and ensemble, with an unlimited amount of possibilities.
But that which must be kept untold, has already been suggested within the name of the starring instrument. It will be displayed in 5 chapters, and 5 different nuances of love. Alias is a bridge that connects the earthly with the divine, and the past with our present, or rather, Contemporary!
All the ALIAS of the project:
Chapter I – Narcissus (available for: solo viola d'amore; viola d'amore, clarinet and string orchestra)
Chapter II – Haiku (available for: solo viola d'amore)
Chapter III – Sacred love (available for: solo viola d'amore; viola d'amore and mixed choir)
Chapter IV – Beyond the death (available for: solo viola d'amore)
Chapter V – Vivamus… (available for: solo viola d'amore; viola d'amore and mezzosoprano)
All updates on official Facebook page:
Elvira Muratore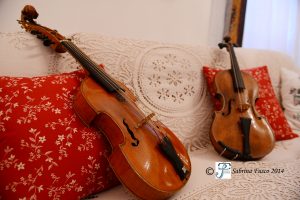 La viola d'amore
Valerio Losito